ANN STEWART MEETS JOHN KERRY AND CONGRESSMAN HAROLD FORD JR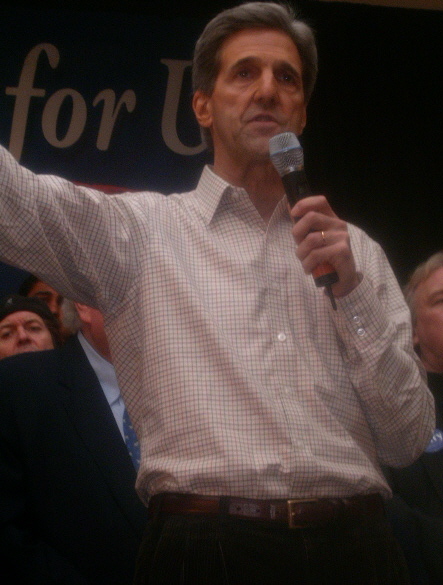 Ann Stewart: The snow was falling hard today in Nashville, but was a good day for me cause today I met and spoke with Presidential Candidate John Kerry and Congressman Harold Ford Jr. They were present in Nashville, TN today at Belmont University and it was an honor to have them here in Nashville...John Kerry's speech was high octane against President Bush, because when he spoke of all the negativity and wrong actions of President Bush the audience would shout…"BRING IT ON.....BRING IT ON" .... In a sense to say that they thought Kerry would be the man to beat President Bush. Because they of course do not think President Bush has done the title of Commander and Chief any Justices, they are just waiting for the moment to Crown Kerry President Candidate Kerry spoke of his military training and stated he was the right man to bring the troops home. He said he knew what it was like to be in their shoes.... I don't think I am as sure of John Kerry being able to beat Bush as the rest of the people that were at John Kerry's speech today are, but I will say John Kerry is a great speaker....He spoke well on the issues. He carried himself like a true President would....I was impressed with how Presidential he looks already, and he is still many months away from his could-be time in the Whitehouse.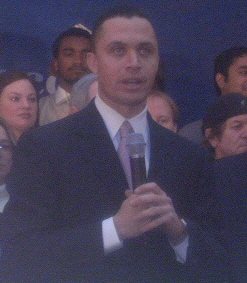 On a lighter note when I spoke with Congressman Harold Ford Jr. after the speech of John Kerry's was over.....I told him the women on the Internet look at him as sort of a Political God.....That I have had many women friends on the internet that state he is the hottest thing in Politics....Harold Ford just smiled at me and I think he started blushing just a little......I told him about my online friend Keziah from New York who had written many love words for the handsome Tennessee Congressmen.....
And once again he seemed to blush....I saw Harold Ford Jr. for what he is....a kind polite well mannered man who is a little shy when women talk love and affection toward him.....I run a website called Talk of Men and this site was set up to talk about men we admire and one of the most admired man on my website is Congressman Harold Ford. With just the few moments I spent with him today, it showed me why he is such an admired and desired man.....When I would brag on how much women adore him and think that he is like a political God he just seemed to smile and blush. Let me tell you ladies this man would make any woman proud to stand next too him. I myself was really proud to stand next to him today. The woman who gets him could be the Luckiest lady in Tennessee or maybe even the world. I took a few pictures with him too.....And he was nice enough to strike the pose with a winning smile. Thank you Congressman Ford.....Just for being the man you are.



Ann Stewart
Site Editor of Talk Webzine


LOVE TALK ON HAROLD FORD JR. AND THE RESPONSE TO THIS ARTICLE


Keziah: Ohhhh Ann,--Tell him that I love him. I think he's brilliant and an inspiration to young people everywhere to follow their dreams and to be active participants in our World. Ann, please, please get a close up picture for me!!!!!!!!!!!!!!!!!!!!!!!!!!!!!!!!!! Definitely give him a kiss for me.


Ann Stewart: Keziah....I took many pictures of Congressman Harold Ford and I even told him about you Keziah...The pictures of him are fine...and I took a few with him and me together...I think he is such a sweetheart...


Georgia Peaches: Ann, I really liked your pictures of Congressman Harold Ford. He is really strikingly handsome.


Ann Stewart: Thanks Peaches...I just took those of him today.... I took 86 pictures of Ford and Kerry and most of them turned out good...So I have enough pictures to make websites on both of these men....You ladies will be happy to know that he is even more handsome in person and he has the prettiest brightest eyes you could ever see.

Keziah: I just saw the Harold Ford pictures. He's sooooo beautiful!!!!!!! And those eyes! What color are they? IS he tall? How does he smell? Tell me everything PLEASE!!!!!!!!!!!!!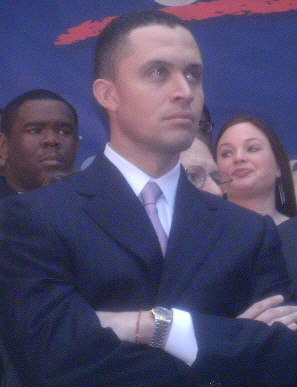 Ann Stewart: He's about 4 or 5 inches taller than me and I'm about 5.8 I think...Maybe the shoes we had on would make a differance...So I think he's at least 6 foot or maybe a little less...I really didn't sniff him or anything...but he smelled OK to me...His eyes are bright...Like hazel with a little green or something...He's got real pretty bright eyes..

Keziah: Ann, Harold is beautiful!!!!!!!!!!! I love the pictures you took of him. I bet he's even more gorgeous in person! And he's single!!!!!!! AWWWWWW! I bet you were thrilled.

Ann Stewart: Well I'm not single and I didn't ask him if he was...but he didn't have a wedding band on his finger that I could tell......So maybe you meet up with him someday and win his heart or something.....You seem to adore him a awful lot.


Keziah: I love the ones you put up so far. Ann, please, please can you email me when you load them up? Ok, tell me, what color are those beautiful eyes? Are they green or blue?

Ann Stewart: Sure I can email them to you....His eyes looked bright hazel to me...but I didn't get a great look at his eyes close up...I just saw that his eyes were bright and pretty..

Keziah: Thank you thank you, I'd love it if you'd email them to me. Ann Thanks So MUCH!!!!!!

Ann Stewart: You're welcome Keziah.

Keziah: BTW, you saw Kerry in person, so in the botox debate, does he look like he did or didn't hop on the botox express?

Sindhu Kumar: Ann, those are great pictures of you, congressman Ford and John Kerry. Harold Ford, jr. is very highly thought of in the Democratic Party. He belongs to the blue-dog democrats (which support both parties legislation). I am sure he will be a major player for John Kerry should he get the nomination. Did you know that Al Gore and Joe Liberman let Harold speak at the 2000
convention in Los Angeles.


Ann Stewart:Thanks Sindhu and Keziah...No he didn't look like he had any surgery...He looked nice but he shows his age to me. Here is a picture where Kerry is hugging Harold Ford Jr. They must have become really close during this campaign.....I would bet if Kerry becomes President he may offer the dear sweet Harold a better job or something......Who really knows?

Keziah: I do agree that Harold should get some kind of position in the Kerry administration. He's still too young to be vice President huh. What about Secretary of State? He'll be great at whatever he does. I think that as he matures, gains more experience and develops he will prove to be a great leader and skilled politician. Someday President Harold Ford!


Ann Stewart: Yeah I hope he makes it to the Whitehouse too...I would love to call him President Ford. That would be good for Tennessee...Harold Ford is just good for Tennessee.
THIS PICTURE IS OF ANN STEWART EDITOR OF TALK WEBZINE AND HAROLD FORD JR. YOU MAY TAKE THESE PICTURES AND USE THEM ON OTHER SITES IF YOU WANT...ALL I ASK FOR IS A LINK BACK TO OUR TALK SITE HERE: HERE IS THE LINK:
http://talkofmen.cjb.net 7:35 AM